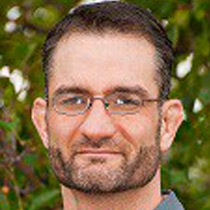 Christopher S.
Acupuncturist "LAc"
Licensed acupuncturist Christopher Serrell always had an interest in the health and wellness field, but it wasn't until he enrolled at Southwest Acupuncture College that he discovered a true passion for the holistic healing arts.
"Naively, I thought I would go to school and learn how to stick athletes with needles," Christopher recalls. "Instead, I learned a comprehensive healing system that is as much an art as it is a science, with thousands of years of rich history to study and grow from as both a practitioner and a person."
Christopher prides himself on taking time with patients and never rushing through treatments. He begins every session with a combination of shiatsu and tui na, which he utilizes as both therapy and diagnosis. "I rarely leave the treatment room when a patient is on the table, and if I do, it's only for a few moments," Christopher says. "I want the patient to know I'm fully accessible throughout the treatment process."
One of the most vital things Christopher strives to teach his patients is self-care and techniques they can do at home to further their healing. A martial arts master himself, Christopher knows first-hand the importance of warming up, stretching and caring for the body.
"I decided to pursue Oriental medicine because I wanted to help people improve their quality of life, especially the non-believers!" Christopher adds.
---
Professional License
CO Lic. #1472