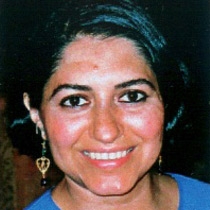 Jacklin A.
Acupuncturist "BA, LAc, MSTOM"
Jacklin Arastouzadeh is a licensed acupuncturist and master herbalist. With roots in Beverly Hills, Calif., she caters to a variety of concerns with her time-tested approach, treating the cause, not the symptoms, of health issues.
"In my clinical practice, I am often confronted with questions from my patients about Chinese medicine," says Jacklin. "I would like to share some of the answers, help my patients to gain confidence and trust, and together achieve healing results."
Jacklin began her career in health and wellness with an undergraduate degree in psychology and pre-med studies from UCLA. In preference to traditional Western practices, she decided to pursue a whole-body approach to healing.
"The Chinese have a holistic approach to health, so they don't separate the physical and emotional as sources of disease," she explains. "In the west, if you have an emotional disease, you go to a psychiatrist, and if you have a physical disease, you go to a physician. The Chinese, however, treat the whole person."
By the 90s, Jacklin had received her master's degree in Traditional Oriental Medicine from Emperor's College. She later served as an assistant proctor for the NCC for obstetric, gynecological and neonatal nursing specialties, and began her work as a research acupuncturist at UCLA Medical Center. These experiences solidified Jacklin's belief in the power of Chinese medicine.
"A lot of people don't realize they have control over their diseases," Jacklin says. "I encourage all my patients to tap into the healer within themselves."
---
Professional License
AC4526
Certifications
National Certification Commission for Acupuncture and Oriental Medicine
California Acupuncture Board
Specialized Training
Emperor's College of Traditional Oriental Medicine, Master of Traditional Oriental Medicine, 1991
License in Acupuncture and Oriental Medicine from Sate of California, 1993
Diplomate of Acupuncture, National Commission for Certification of Acupuncturists (NCCA), 1993
Diplomate of Acupuncture Orthopedics,National Board of Acupuncture Orthopedics, (NBAO), 1992
Emperor's College of Traditional Oriental Medicine, 1992
Certified Industrial Disability Evaluator (CIDE), NBAO, 1992
Certificate in Doctor-Patient Relationships,Body Mind Systems Medical Center ,1992
Certificate in the Link between Diagnosis and Communication, Educating your patient, Ethics and Referrals,Body Mind Systems Medical Center, 1992