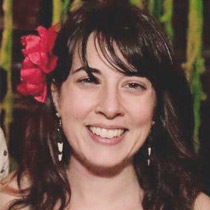 Caroline A.
Acupuncturist "LAc, MAc"
"Be your own best expert," advises Caroline Ashurst, a licensed acupuncturist and master of acupuncture who is passionate about helping her clients. "I encourage them to pay very good attention to their body and what is happening." Acupuncture can perfectly complement this new-found sense of awareness.
Caroline founded Restorative Harmony Acupuncture after graduating from Maryland's Tai Sophia Institute in 2009. She currently practices at Ease Healing Studio in Rittenhouse Square, Philadelphia, where she integrates several schools of acupuncture to address her clients' unique needs. Then she goes one step further. "I not only address physical issues," she describes. "I address how those issues are impacting my clients emotionally, mentally or spiritually."
A DJ for the past 15 years and a lover of music, nature and inspirational reads, Caroline considers herself a partner on each client's wellness journey. Doing so allows her to personalize each treatment to address specific "in the moment" needs.
Caroline is extensively trained in the Five Element tradition of acupuncture—a holistic model that both reduces existing symptoms and also restores the body, mind and spirit. Techniques span beyond the realm of acupuncture, making use of moxa (an herb used on acupuncture points), gua sha and cupping (a suction-based form of Chinese medicine to release toxins).
---
Professional License
Pennsylvania License KO000642
Certifications
Pennsylvania Board of Osteopathic Examiners/Board of Medical Examiners