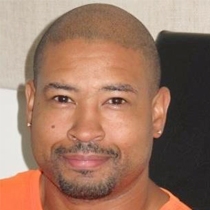 Maurice W.
Personal Trainer "CPT"
Certified personal trainer and owner of ChainLink Fitness Maurice Willingham offers private training, group workout sessions and boot camps to clients in the Carmel, Ind. community.
"I specialize in customized training programs for people in search of lifelong health and fitness," says Maurice. "I meet with clients to evaluate their goals and build the right plan for them."
One-on-one training isn't the only perk of exercising with Maurice either. "Working out in my private studio, without the distractions of a large health club, allows clients to avoid wasted time and energy and accelerates their success," he promises.
The studio, located conveniently in Carmel, features free-weights and fitness machines to enhance each workout's effectiveness. Maurice's experience at other facilities, such as Bally Total Fitness, leave him well equipped to assist clients to "better themselves physically." Need proof? One of Maurice's clients is bodybuilding champ Jameka Robinson.
Maurice says he chose to pursue a career in personal training because he loved to work out, and wanted a way to help others meet their fitness goals too. How does he encourage the portion of the population who might not be so willing to hit the ground running? "I offer encouraging words. And free sessions!" he says.
---
Certifications
American Council on Exercise (ACE)
International Fitness Professionals Association (IFPA)