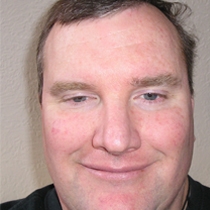 David B.
Massage Therapist "LMP"
---
See it. Treat it. Release it. That's how David Barr, Washington State licensed massage therapist and owner of Touch Fusion Massage, approaches each client.
David Barr's personal practice infuses western deep tissue techniques with eastern energetics to provide clients with the best massage experience possible. He combines a knowledge of physical anatomy with an intuitive understanding of the body's energy flow, all to find ways to release disabling tensions.
Disabling is exactly how David sees stress, anxiety and pain. "By releasing the pain, we allow ourselves to grow, move forward more freely, and better experience our lives," he says.
David should know. A former technical writer and tech support rep in Silicon Valley during the dot-com boom days, David is familiar with the risks of sitting at a computer all day long. After the widespread industry crash, he transitioned fields and became a massage therapist. Not long after, David was working with clients who exhibited the same type of crippling stress he remembered so well.
While David's practice may have moved to Seattle, his clients are very much the same. Many are still grinding away in the computer industry, though he also works with devoted martial artists and physically disabled clients. David, for example, works with a client who has MS to help alleviate muscle cramps and enhance quality of life.
Utilizing the tools he learned during his tech days, David's chief concern is to listen to his clients. "Not just the words," he explains, "but the body language too." As he works, David is constantly searching for where it hurts as well as why. Is it a recent injury or a long-standing problem? Intuitive and insightful, David uses what he hears and feels to bring about the best possible results.