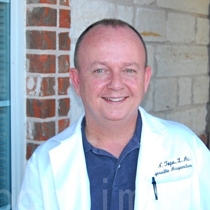 Dale T.
Acupuncturist "LAc"
Patients come to me complaining about feeling left in the dark by health care professionals, says licensed acupuncturist and former nurse, Dale Tope. I feel its my duty and responsibility to keep my patients informed.
Dale is a firm believer in the importance of whole-body healing. He encourages his clients to explore all lifestyle choices, including their dietary intake, that may have contributed to their condition, and then develops a treatment program that addresses both their concerns and their habits.
Dale is committed to putting his clients at ease during their sessions; the more comfortable clients are, the more focus they can place on the healing process.
In his Pflugerville, Texas office, Dale prides himself on the unique, personalized care his patients receive. I believe that results motivate patients more than anything else, he says. I spend a lot of time getting to know each patient, teaching them, and developing a relationship in which we both take responsibility for their recovery.
Why is Dale so committed to patient education? Its the key to treatment success, he says.
What to Expect
During the intake exam, Dale encourages his patients to ask plenty of questions. He doesnt proceed until he is convinced they understand their options, as well as his recommended course of treatment.
When the session commences, Dale thoroughly explains the purpose of the needle insertion points. After the session, he discusses what patients can do until their next appointment, including how to take their herbs. He also suggests lifestyle changes that will make their recovery more successful.
---
Professional License
Texas Acupuncture License #AC01236
Certifications
National Certification Commission for Acupuncture and Oriental Medicine