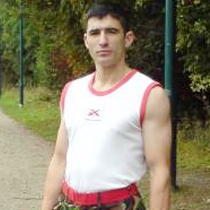 Wayne S.
Personal Trainer "CPT"
NASM-certified personal trainer Wayne Smith didn't realize he was advanced in the world of fitness until a line manager in the British Army told him so—and then sent him through a two-month long fitness course.
Wayne works with clients on a private and semi-private basis in Lebanon, Pa. He served in the British Army for more than 13 years as an infantry soldier, seven of which were spent as a military fitness instructor. During this time, Wayne helped overweight and out of shape recruits meet the British Army's standards of fitness.
Far from a personal trainer who stands on the sidelines, Wayne is willing to do whatever it takes to get his clients into the best shape of their lives; that means running with them on any terrain and for any distance. He specializes in weight loss and offers nutritional advice (only advice!) to supplement his workout programs.
What to Expect
Sessions typically begin with a 10-minute full-body warm-up, including dynamic flexibility. One-on-one sessions involve a 40-minute workout, inclusive of endurance training and, once Wayne gets to know you, circuit training. (Wayne leaves whether or not to include circuit training up to the client.) Workouts conclude with a 10-minute cool down, which involves static stretching and partner stretching to improve flexibility.
---
Certifications
National Academy of Sports Medicine (NASM)
Specialized Training
Premier International, Level 3 Certificate in Pre- and Post-Natal Exercise