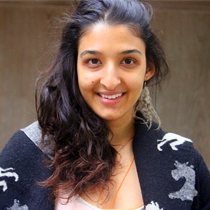 Alexandra M.
Yoga Instructor
When not working with private clients in New York City, registered yoga instructor Alexandra Moga teaches yoga to grade school children so they can improve physical conditioning as well as cognitive and emotional skills.
Alexandra was a child herself when the world turned upside down. At eight years old, her family suddenly moved from New York City to the suburbs in northern New Jersey. Culture shock drove her inward, which in time allowed her to hone her natural skills in sports and the arts, including music, writing and painting.
By the age of 15, Alexandra was already practicing yoga and enrolled in a culinary arts school. Craving new learning experiences, she followed her instinct and traveled the world, attending the American University of Paris in France before returning to New York City. In 2009, after studying with David Hollander at the Yoga Society of New York, she became a registered yoga instructor.
Alexandra has worked with clients of all ages and backgrounds, from three-year-olds to senior citizens, from nurses to business leaders. She has taught seasoned tennis pros and contemporary artists alike, working with the Michael Buble band and performance artist Marina Abramović, among others.
"Working with artists to fuel their creativity and serve as a reminder that their physical body is their greatest tool is such a gift," Alexandra says.
No matter their background, Alexandra teaches each individual to breathe, to connect, and to "remember themselves at any given moment."
---
Specialized Training
Yoga Society of New York