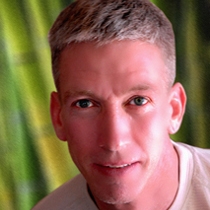 Chester D.
Acupuncturist "LAc, MSOM"
Those who visit the offices of acupuncturist Dr. Chester Dickerson are often in pain, struggling after an accident or coping with a sports-related injury. Many are suffering from withdrawal symptoms, as they battle with all sorts of addictions, from smoking to drugs and drinking. Dr. Dickerson's goal is to assist with the healing process—all judgments withheld.
"In combination with other sources, acupuncture is an excellent modality in helping addicted afflictions," Dr. Dickerson says, referring to traditional psychotherapy and 12-step programs. For years, he has been working with those addicted to alcohol, nicotine and other substances, and also belongs to an outreach program dedicated to helping drug-addicted teens on the streets.
By centering on the mind's compulsions, Dr. Dickerson seeks to ease the self-defeating behaviors associated with addiction. Acupuncture is not presented as a cure, but a way to enhance recovery. He believes that acupuncture helps clients with maintaining willpower, improving moods and decreasing cravings.
Originally a student of Western medicine, Dr. Dickerson went on to pursue a degree from Mexico's oldest private medical school. From there, he switched his focus to Eastern modalities, earning a master's degree from Southwest Acupuncture College in Albuquerque, N.M.
A certified Acudetox specialist, Dr. Dickerson strives to treat clients without judgment or confrontation.
What to Expect
Even skeptics will benefit from the healing process, Dr. Dickerson says. A big plus: There's not much preparation needed for an acupuncture session. Just wear loose clothing and have a meal at least one hour before meeting.
---
Professional License
AC01036
Certifications
National Certification Commission for Acupuncture and Oriental Medicine
Texas State Board of Medical Examiners
Specialized Training
Acudetox Specialist, National Acupuncture Detoxification Association (United States)