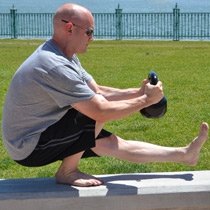 Scott S.
Personal Trainer "CPT"
Certified personal trainer and Kettlebell expert Scott Stransky knows what it's like to be scared of your own body. He survived two heart attacks before he turned 30, and has since been dedicated to helping others avoid the same fate.
Upon being introduced to Kettlebell training in 2009, Scott was immediately amazed at the efficacy of the total body workouts. He went on to complete the Russian Kettlebell Challenge, the gold standard of Kettlebell conditioning, and to open a private fitness center, PowerHour Kettlebell Fitness.
At PowerHour, Scott packs cardio, strength and flexibility training into personal and small group fitness. "Combining cardio, strength, and flexibility training, Kettlebell training works your body as a whole unit, not just individual parts," he says.
Scott is passionate about holistic nutrition and functional movement, and applies that knowledge to give clients the complete package. Through advanced education courses, he has studied the intricacies of human movement and earned the designation of R-Phase Certified Movement Re-education Specialist from Z-Health Performance.
---
Certifications
National Academy of Sports Medicine (NASM)
Specialized Training
Russian Kettlebell Challenge (RKC) Instructor Certification Course, 2010