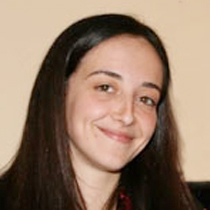 Leah K.
Acupuncturist "Dipl Ac, LAc, MAc"
Leah Karpelson is a licensed acupuncturist and diplomate of acupuncture, offering the residents of her native Newton Highlands, Mass. the opportunity to improve their health and well-being by natural, holistic means.
While working toward her bachelor's degree in psychology with a focus on child development, Leah engaged in a number of research projects pertaining to cross-cultural counseling, the psychological effects of support systems on depression and women's health. This undergraduate education would lay the foundation for her future interests as an acupuncturist.
Leah is a graduate of the New England School of Acupuncture, where she earned her master's degree. Her clinical experience is extensive and varied, and includes time spent at the New England School of Acupuncture student clinic, Lemuel Shattuck Hospital and the Elder Service Plan of the North Shore. During this time, she logged 630 clinical hours, worked with 136 patients and administered 358 treatments.
Much of Leah's motivation as a practitioner comes from personal experience. "I have had acupuncture help me greatly," she says, going on to explain that these experiences fueled her desire to practice. "I had a problem that was getting in the way of my daily functioning, and acupuncture transformed my life."
Along with in-depth knowledge and a strong educational background, empathy plays a crucial role in the work Leah performs. "I really understand what it is to have a health issue interfere with your life," she says. "Acupuncture also allows for prevention, so that if you have not had an issue, you can avoid it."
---
Professional License
NCCAOM #135776
MA Lic. #248137
Certifications
National Certification Commission for Acupuncture and Oriental Medicine
Massachusetts Board of Registration in Medicine