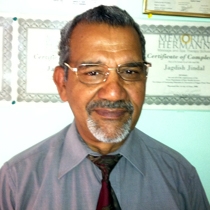 Jagdish J.
Massage Therapist "LMT"
"When I touch the toes of my clients, 70 to 80 percent of the time I can tell what's going on in their bodies," says intuitive licensed massage therapist Jagdish Jindal.
Jagdish is skilled in popular massage techniques, like acupressure and reflexology, as well as Ayurvedic medicine. Ayurveda originated in India and is a form of alternative herbal therapy. The aim of Ayurvedic medicine is to integrate and balance the body, mind and spirit, which is believed to help prevent illness and promote wellness.
Jagdish says he fell in love with the beauty of nature—and natural living—while growing up in India. "Clients come to me when they are tired of traditional Western medicine," Jagdish explains. "They want to give natural methods a try."
It's extremely important to Jagdish that his clients understand that their health is a gift and a priority. "Your physical body is like a moving car," he says. "But if you misuse it—or overuse it—spare parts are not easily available. Hence, treat your body like a car, and get it fully serviced twice a month."
Throughout his twenty years in the health field, Jagdish has seen clients from all walks of life. "I treat them like friends," he says. "During therapy, they open up their hearts and start enjoying life."
What to Expect
No surprises. Jagdish believes patients should understand the therapy they are receiving, and explains his methods thoroughly before treatment.
---
Professional License
MT101624
Certifications
Texas Department of Health Services
Specialized Training
Phoenix Massage Therapy School (Houston, TX)