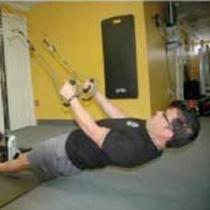 Michael B.
Personal Trainer
While Michael Bistany will tell you there is no quick, easy solution to transforming your body, his blend of a positive attitude, humor and encouragement keeps clients coming back again and again.
As a dedicated fitness trainer, Michael lends his knowledge and skills to ensure each client is given the utmost attention and is able to reach their individual goals. By focusing on fun and challenging yourself, you'll forget you're even working out with this high energy trainer.
Clients who enter Michael's new and fully stocked athletic facility are treated to highly personalized training sessions that leave them encouraged and determined. Michael focuses on workouts that combine cardio with strength training, which is a powerful tool in fighting osteoporosis, diabetes, obesity and heart disease and depression symptoms.
Michael believes that being healthy isn't just about being the right weight; it's also a state of mind. Besides tackling a client's weight loss goals, Michael instills the importance of a healthy lifestyle, including nutritional guidance and regular exercise for a healthier mind and body.
---
Certifications
National Academy of Sports Medicine (NASM)
Specialized Training
International Sports Sciences Association, Certified
National Association of Sports Medicine, Elite Trainer
B Fit University, A Partner Assisted Stretch Workshop