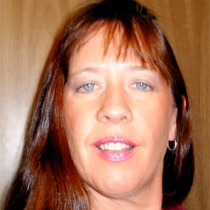 Mary Jo S.
Massage Therapist "CMMT, CMTPT, LMT"
---
Myofascial trigger point therapy isn't rocket science, stresses Mary Jo Smiley, Nationally Certified Trigger Point Therapist and private massage and bodywork practitioner. "But there is far more to it than finding a painful spot and pressing on it." With a strong educational background in the study of trigger points, Mary Jo knows just how to pinpoint these pain patterns—and how to eradicate them.
Trigger point therapy is ideal for aches of all kinds, from mild discomforts to serious soft tissue injuries due to whiplash or muscle overuse. "Treating the trigger points causing the pain can eliminate common conditions," explains Mary Jo, including migraines, shoulder and neck pain, hip, leg and foot pain, and everything in between.
A graduate of the Pittsburgh School of Pain Management, Mary Jo first stumbled upon trigger point therapy after many years of—like her clients—being in pain. She finally found the relief she had been searching for (Mary Jo suffered from migraines), and was so impressed with the results that she decided to teach others what she learned.
Much more than a massage therapist, Mary Jo also teaches her clients the importance of self-care in an effort to combat pain before it occurs. Stretching, a simple yet often forgotten habit, is one of the best ways to do so.
After nearly a decade in the massage and bodywork field, Mary Jo now works with clients in her private studio, where she can fully control the surroundings and the work performed. Her next dream? To transform her cozy office into a comprehensive wellness center, where like-minded wellness professionals can offer alternative and complementary care to those in physical and emotional distress.