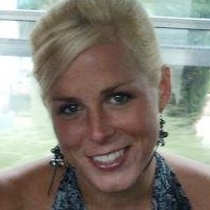 Jenny S.
Massage Therapist "LMT"
Licensed massage therapist Jenny Sweeney does not believe in toiling in a cramped cubicle, and said goodbye to the copy-writing world to focus on the human touch. Today, she relieves everyday pain and stress by offering in-home services to clients in Tallahassee, Fla.
Jenny grew up in the outskirts of Philadelphia, Pa., the youngest of eight children, where she enjoyed dancing and running—two activities she continues to love today. After graduating from Villanova University, Jenny discovered that life as an SEO copywriter was not as fulfilling as she had hoped. Not only did she dislike the 13+ hour days, but the stress and bad posture caused by sitting long hours in an office chair were less than ideal too.
To regroup, she took off for six months and lived in Hawaii. There, she became an avid surfer and began her transformation, acquiring the desire to embark upon a new career as a massage therapist. When she returned home, Jenny enrolled at the Cortiva Institute. She has been in practice since 2010.
"I can't imagine another job I'd be so well suited for," says Jenny of her professional endeavors. "I thoroughly believe the saying 'If you love what you do, you never go to work again!'"
Jenny's clientele is made up of individuals of all ages, each looking for stress reduction or pain management. Some are parents wanting a moment to themselves in a hectic household; others are dealing with migraines or recovering from auto injuries. Based on individual needs for pain relief and relaxation, Jenny offers a range of modalities, from Swedish and deep tissue massage to trigger point therapy.
---
Professional License
MA 65040
Certifications
Florida Board of Massage Therapy
National Certification Board for Therapeutic Massage and Bodywork
Specialized Training
Cortiva Institute, 2010
Current & Previous Employers
Four Seasons Philadelphia Rittenhouse Hotel, Philadelphia