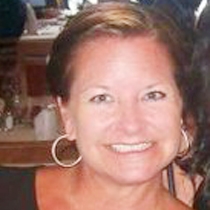 Parker A.
Massage Therapist "CMT"
"As a long time sufferer of migraines, I found massage therapy helped decrease the number of incidents," says certified massage therapist Parker Alter. "After experiencing the power of touch therapy firsthand, I knew I wanted to make it my career."
A graduate of the American Institute of Massage, Parker established Alter Wellness to offer a wide variety of therapeutic services, including Thai yoga massage and trigger point therapy, to the residents of Richmond, Va. Her quality-driven practice now attracts an array of clientele, including athletes and individuals coping with the symptoms of fibromyalgia and other chronic ailments.
At Alter Wellness, Parker encourages clients to begin trusting their bodies. "Most clients are aware of their physical weaknesses," Parker says. "I'm the coach that helps them realize they can make themselves better, in their minds, bodies and spirits."
Parker believes every session should be unique, because each client is a unique individual. What sets her apart is her ability to listen not only with her ears, but with her mind and spirit as well. "I don't just listen to what they're describing verbally," she explains. "I listen to what their body says through movement and touch. I concentrate on their individuality."
Parker is also focused on the wellness of the world outside her office. "My aspiration is to assist in the realization of creating a stronger, more self-aware, healthier community by providing services that instill those values."
---
Professional License
NCMT #606165-11
Certifications
Virginia Board of Nursing
Specialized Training
American Institute of Massage, Inc., Richmond, VA