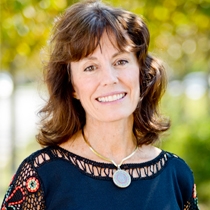 Kathleen R.
Acupuncturist "PhD, DOM, LAc"
A pioneer in the field of Complementary medicine, beginning in 1972 in Hong Kong studying acupuncture, Dr. Kathleen Rosenblatt co-founded the first acupuncture clinic in the U.S. with her husband, Dr. Steven Rosenblatt, and the first five schools: the New England School of Acupuncture and the California Acupuncture College with four branches. She is currently Director of Community Outreach for the Earth Harmony Foundation, founding and managing the organization's food bank program.
In addition to acupuncture training in Hong Kong, Kathleen was educated by Franciscans and Jesuits, studied in Quito Equador, spent a year at the Sorbonne in Paris, France, graduated Magna cum Laude and earned an NDEA scholarship to the University of Connecticut. Her studies of traditional cultures and religions have influenced her science and art of healing. Her doctoral thesis in comparative literature became a book, Rene Daumal: The Life & Work of a Mystic Guide, published in Paris in 1992 and by SUNY Press in 1999. This effort took two decades and exposed her to many ancient forms of healing knowledge. She has also studied with curanderas in Mexico and with Carlos Castaneda extensively in the 1980s.
What to Expect
Weekly tune-ups keep clients performing at a peak level while preventing age-related degeneration of the face and body. On a cosmetic level, Dr. Rosenblatt's work helps keep facial lines and puffiness at bay.
Dr. Rosenblatt has mastered ways of addressing disease by working "upstream" from the problem, addressing not just the symptom but the root cause as well. "When I begin a treatment, I always start with a massage wand to relax and wake up the body from head to toe," she describes. "I ease the patient into a deep relaxed state until they fall asleep and then float out at the end." Both energizing and relaxing at once, Dr. Rosenblatt dedicates her life to serving her patients' better health.
---
Professional License
AC380
Certifications
California Acupuncture Board
Specialized Training
Universit Paris Sorbonne (Paris IV), Diplome, French Civilization and Literature