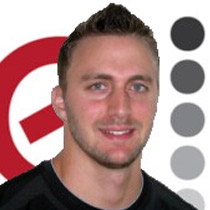 Jon M.
Personal Trainer "CPT"
If you ask Jon McQueen a nutrition or fitness question, be prepared for real answers. Jon is knowledgeable and will gladly share what he knows, taking the topic of health seriously and staying abreast of the latest developments in exercise.
Growing up, Jon moved around a lot, from Montana to Washington and northern California. Sports, however, was a constant no matter where he lived, whether basketball, track, football or weightlifting. Combined with an interest in anything science-based, his childhood passion for athletics led him to major in kinesiology and a career in helping others meet their fitness goals.
A go-getter by nature, Jon obtained five certifications while earning his bachelor's degree, focusing on fitness, nutrition and health. Today he works with San Diego residents at several gym locations in the city, or at clients' homes, offering personalized training, group sessions and boot camps.
Routines with Jon are never stagnant—he will mix modalities like Kettlebells, body weight exercises and suspension trainers, so clients are constantly challenged. "I want each individual to learn from their experiences with me, and get the most out of the services they purchased," Jon says. "That way, they have the ability to apply what they've learned on their own, feel confident in themselves, and grow as a person."
It's not every day that one gets to do what they love. That's why Jon is more than happy to create challenging workout plans designed for each individual, guide clients through sessions and act as a motivator. If a client has any questions regarding exercise or nutrition, Jon will go out of his way to provide clear, concise answers. Fitness is not only his passion—it's his life.
---
Certifications
National Strength and Conditioning Association (NSCA)
National Academy of Sports Medicine (NASM)
Specialized Training
Certified Strength and Conditioning Specialist (CSCS), 2009
Certified Personal Trainer (CPT), 2006
Performance Enhancement Specialist (PES), 2006
Corrective Exercise Specialist (CES), 2006