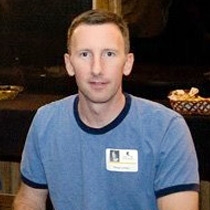 Doug L.
Personal Trainer "CES, CPT"
As a competitive athlete himself, Doug Larsen recognizes that progress comes from a holistic approach to training, rather than the creation of complex routines.
Doug uses corrective exercise techniques to teach his clients to move their bodies in ways that foster strength, stability and health. He trains clients in their homes (in and around Eden Prairie, Minn.) and gets to know each one personally, so their workout routines can be tailored to them.
Doug gathers information about his clients through strength and movement assessments before implementing a training routine. He uses constant feedback and even periodic text messages to help them stay on track and hold themselves accountable for the goals they set for themselves. His aim: to teach his clients body awareness both after and in between training sessions.
With comprehensive methods, Doug augments his twelve-plus years of exercise experience with input from other trainers. He founded a group that meets monthly to discuss health, exercise techniques and other topics, and incorporates what he learns into future sessions.
Though he uses all different forms of exercise in his physical therapy practice, cycling is still Doug's passion. He continues to compete as a cyclist, helps to build mountain bike trails for local non-profits and participates in races and bike-ins for charity.
---
Certifications
National Academy of Sports Medicine (NASM)
Specialized Training
NASM Corrective Exercise Specialist NASM Performance Enhancement Specialist