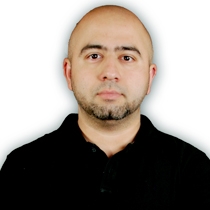 Fardeen A.
Massage Therapist "CMT"
---
Creativity is at the core of certified massage therapist Fardeen Arif's approach to his clients' health and well-being. A professional disc jockey and photographer, he mixes a range of bodywork modalities throughout a session, basing his approach on individual needs for relaxation and pain relief.
Fardeen is a graduate of the European School of Massage Therapy, where he earned top honors. Having grown up in Qatar, and living there from birth until the age of 19, he says that he always knew what the rest of the world had to offer, and felt compelled to pursue additional training in sports massage and injury management abroad in the Czech Republic and Ukraine.
Fardeen's practice attracts clients with assorted needs, including "office types" in search of a mental respite and avid runners whose hamstrings have been tight for as long as they can remember. Using his extensive and well-rounded background and training, Fardeen comes up with the answer. "I am an advanced massage therapist and can assess tissue extremely well," he says.