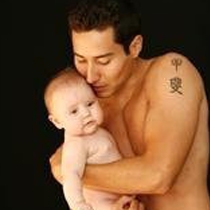 Matthew H.
Personal Trainer "CPT"
A dedicated family man and fitness practitioner, Matthew Hanson focuses on the guiding principles of movement and nutrition, using his training and skills to help clients improve their health and well-being.
An Oregon native, Matt grew up playing—and loving—every sport you can name, his energetic attitude which has attracted the likes of America's Got Talent winner Terry Fator and Maxim model Taylor Makakoa. His small-town upbringing carries over into his professional endeavors too. Whether reality star or stay-at-home-mom, Matt gets to know each and every trainee personally, creating custom workouts and diet programs that are as rewarding to him as they are to his clients.
A body builder and fitness educator, Matt understands how difficult it can be to fit exercise into a busy schedule. Though he swears by his ability to achieve rapid results, Matt's goal as a trainer is not short-term success, but making long-term changes to benefit his clients' lives. From weight loss to muscle gain to speed development, progress is possible with Matt's personalized programs.
Armed with an arsenal of intelligence in the science of exercise and nutrition, Matt remains committed to learning all he can about his ever-evolving profession. When he's not training clients at one of his three fitness locations or spending time with his daughters, you can probably find him researching the latest trends in health and fitness, from anatomy and biology to the best supplements for muscle building.
---
Certifications
National Strength and Conditioning Association (NSCA)
Specialized Training
National Strength and Conditioning Association, Certified Personal Trainer
World Instructor Training Schools, Instructor at University of Las Vegas
DotFit, Certified Fitness Professional
Team Beachbody Coach
American Heart Association, CPR Certified