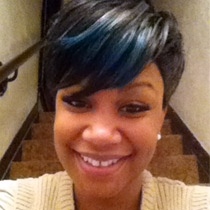 Mesha A.
Massage Therapist "LMT"
Take risks. Whether that means challenging yourself to be more active, cutting your hair super-short (a la Mesha) or treating yourself to an hour-long massage, Mesha Anderson encourages everyone to take control of their lives.
Mesha, a licensed massage therapist in the state of Missouri, offers at-home bodywork sessions. While many of her clients seek massage work to relax and unwind, Mesha also tends to attract individuals with muscular concerns that get in the way of their well-being.
"This is great for me, because I love the challenge," says Mesha of these intensive appointments. Having worked in spas and with chiropractors, she is thrilled to get the opportunity to put her training to good use, implementing effective techniques to knead those muscles back into shape.
For Mesha, massage comes naturally and is the perfect outlet for her desire to help others. Lowering a client's stress levels is most important to her, as it consequently promotes an all-around healthier and more positive attitude in others.
With soothing hands and a comforting demeanor, Mesha takes pride in her work, helping clients to care for their muscles through correct posture and complimentary stretches to ensure the longevity of the massage. Other ways to stay healthy? Water is essential for the muscles, which is a lesson Mesha teaches all of her clients.
---
Professional License
2011002929
Certifications
Missouri State Board of Therapeutic Massage
Specialized Training
Missouri College, 2011