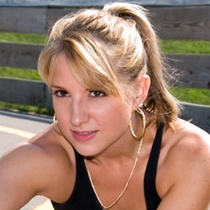 Miranda H.
Personal Trainer "CPT"
A certified professional through the International Sports Sciences Association, Miranda Hoffmann—founder of Focus Fitness—helps clients set realistic objectives and transform their health, using one-on-one mobile training that fits their unique needs and complements their busy lives.
Personalization is at the core of Miranda's work. To customize each client's training plan, she takes the time to learn what their goals are, what their lifestyle is like and how best to plan a healthy future. Doing so enables her to help clients lose, maintain or even gain weight, accounting for likes and dislikes, roadblocks, concerns and past eating and exercise habits.
Workout programs with Miranda are tailored specifically for each client, and while packages range in price to fit varying budgets, none waver in their personal one-on-one attention or ability to deliver fast and safe results. Miranda also offers frequent body composition evaluations and nutritional guidance based on personal tastes.
Miranda is as accommodating as possible so that together, she and each client can establish a realistic and healthy fitness plan. Each session will include a discussion of how the client has been eating and how to make any necessary changes to stay on track. Any concerns will be addressed immediately and appropriate changes will be made, as the client's comfort and happiness are Miranda's top priorities. "If you're motivated to get healthier and stronger," she says, "you've come to the right place."
---
Certifications
International Sports Sciences Association (ISSA)