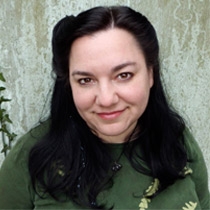 Sharon R.
Acupuncturist "LAc, MSAOM"
Armed with a background in fitness, Sharon Rose understands the demands of physical activity on the body. As a former sufferer of chronic pain herself, she now utilizes ancient Oriental medical techniques to eliminate patient pain, just as acupuncture once did for her.
Personalized patient care is a core value at Rose City Acupuncture, Sharon's private studio in Portland, Ore. "I only see one patient at a time," she says. "Your comfort and security are my priorities!"
Sharon first learned about functional anatomy and biomechanics as a personal trainer and noncompetitive body builder—a foundation that gave her a firm understanding of muscle and joint problems, from chronic pain to sports injuries. Her other means of education: personal experience.
Sharon, who has experience in treating everyone from fibromyalgia patients to Olympic athletes, was once a patient herself. "When a car accident left me crippled and housebound, I went from a rock-climbing martial artist to living on my couch in constant pain," she recalls. "Once I discovered acupuncture and osteopathy, my body was finally able to heal itself."
Today, Sharon seeks to share her experience and her incredible recovery with others, with the hope that her story can give others a greater understanding of the emotional and physical effects of pain. "I can truly say that I've been there, and I know how to help you come back to being yourself," says Sharon.
---
Professional License
Lic. 153086
Certifications
National Certification Commission for Acupuncture and Oriental Medicine
Oregon Board of Medical Examiners
Specialized Training
Oregon College of Oriental Medicine, Master of Oriental Medicine