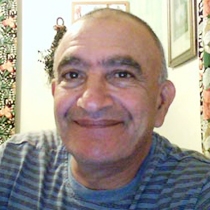 Tony G.
Massage Therapist "LMT"
"I went into this field at the suggestion of my wife, and quickly found out that I had a real passion for body work," says licensed massage therapist Tony George. "I enjoy my new career a lot. I get real satisfaction from treating clients with professional and caring massage therapy."
Tony, a 2010 graduate of the National Institute of Massotherapy, treats clients out of M3 Massotherapy in Tallmadge, Ohio. He believes communication is the key to successful massage therapy, and encourages clients to be forthcoming about what they are experiencing during and between sessions.
"My approach is a firmer pressure and detail-oriented sessions," Tony says. "I'm capable of a light touch as well, but one of the advantages of using a male masseur is the additional muscle power. Deep tissue therapy requires the fingers to go deep into the muscles to relieve pain and soften stiff muscles."
Tony says he sees every client as an individual, and customizes his sessions to their specific needs and goals. "I do not give cookie-cutter therapy," he says. "The body is very connected, and one area influences the other, so a whole approach is best. I treat muscle groups in a methodical way, so your massage is complete."
What to Expect
Tony asks first-time clients to arrive 15 minutes early to their scheduled appointment in order to fill out a health history questionnaire.
---
Professional License
018877
Certifications
Ohio State Medical Board
Specialized Training
National Institute of Massotherapy, 2010