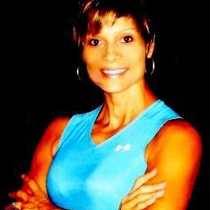 Patricia E.
Personal Trainer "CPT, ES"
Patricia "The Punisher" Englund doesn't let her clients give up. "I don't enable people," she begins. "I empower people."
Fitness has been an integral part of Patricia's life for as long as she can remember. Growing up with a father who was a competitive bodybuilder and a semi-pro baseball player, she gained a firm understanding of the benefits of regular exercise and proper nutrition from an early age. The apple doesn't fall far from the tree either; Patricia is a regular competitor in national figure and bodybuilding contests.
A leading expert in fitness and nutrition, Patricia opened the doors to WellFIT in 2002 and has established herself as a well-known practitioner in the health and medical community. She credits her stature to the fact that she heeds her own advice. "You see too many trainers who constantly promote fitness, yet they don't follow any of the rules," she explains. For Patricia, it's unacceptable to bring anything but her "A" game.
---
Specialized Training
TRX Suspension Training