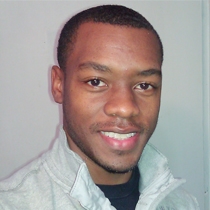 Chavez W.
Massage Therapist "LMT"
"I strongly believe in health via awareness," says licensed massage therapist Chavez Walden. "The more you know about your body, and how it functions naturally, the more likely you are to adjust your lifestyle to accommodate those functions."
As Chavez tells his clients, "knowledge is power," and this philosophy is the backbone of his massage practice. "The approach I take in every session is to try to understand the client's body and how it reacts to outside stimulus. This is key in providing an effective treatment," he says.
Chavez believes that the power of relaxation is a great weapon in the battle against stress. "Ninety percent of diseases are stress related," Chavez explains. "A comforting touch is the most effective natural stress reliever." Combined with knowledge of anatomy and massage techniques, Chavez says the possibilities for treatment and rehabilitation "become endless!"
While his focus is on the body, Chavez knows that physical and mental relaxation go hand in hand. "If one can ease the mind, the body will follow," he claims. "Your thoughts will become clear, your soul more stable, and the burdens of life will be lifted."
What to Expect
During sessions, Chavez asks that his clients just "breathe and relax" and let him do all the work. After the session, he will discuss with the client the possible underlying problems that may be causing their pain or discomfort.
---
Professional License
SC6834
Certifications
South Carolina Board of Massage and Bodywork Therapy
Specialized Training
Southeastern Institute, Columbia, SC, 2010