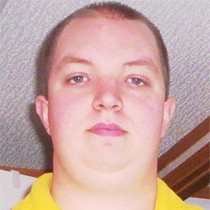 Eddie G.
Massage Therapist "LMT"
Licensed massage therapist Eddie Gibson admits that he didn't begin thinking about a career in massage until he was in his 20's. "I would give my co-workers massages," he explains. "They told me I should have gone to school for it."
The residents of Wilkinson, W.Va. are fortunate that Eddie heeded his co-workers' advice. Since his graduation from the Everest Institute for Massage Therapy in Cross Lanes, W.Va., Eddie has been offering a range of massage modalities, including Swedish and deep tissue, both in his apartment as well as client homes.
Thought he hadn't considered making it his career, Eddie really began his massage training at a much earlier age. "When I was young, I used to give my mother massages on her feet and shoulders," he explains. "She loved every second of it!"
Eddie believes he has success as a therapist because he is motivated and passionate about helping people. He says he's encountered other therapists who don't have a passion for the healing arts, and that it's his personal attitude toward massage that sets him apart. "I look at massage as more than a job," Eddie says. "It's my hobby, and it's my art as well."
What to Expect
It's important to Eddie that his clients understand the difference between a massage from an experienced therapist and a massage from a non-professional. With this in mind, he takes time during the session to explain exactly what they should be feeling throughout the session, as well as what he as a therapist knows is happening within their body.
---
Professional License
2008-2390
Certifications
State of West Virginia Regulatory Board