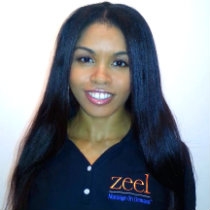 Prisila J.
Massage Therapist "LMT"
Whether you're type A or type B, licensed massage therapist Prisila Jacobs will see you through to a state of health and wholeness.
Prisila Jacobs is licensed to practice massage therapy in the state of New York since 2010. She's highly requested for her work, and was the 1st therapist at Zeel to perform 1,000 sessions. Prisila has ten years of experience as an Advanced Personal Trainer at the prestigious "Reebok Sports Club/ NY." She puts this expertise to use for example, when performing proprioceptive neuromuscular facilitation stretching on her clients, which increases their range of motion over time.
Prisila attended Western Michigan University on a track scholarship, where she was a member of a championship 4x400 relay team. Her knowledge of exercise and it's impact on the body gives her a deep understanding of how to treat a clients' muscular imbalances, which is based on a brief assessment done at the beginning of the session. The result? "Clients really feel the difference in my work," she says which includes a number of body work modalities.
---
Professional License
NYS license 024499 Certificate # 7243872
Certifications
New York State Board of Massage Therapy
Specialized Training
Swedish Institute College of Health Sciences (New York, NY)