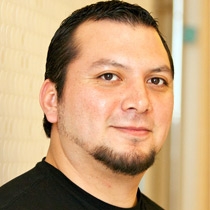 Rogelio M.
Massage Therapist "LMT"
---
Most individuals have no idea that their body has become misaligned over time, whether due to sitting all day at a desk or performing vigorous physical activity, says Rogelio "Tito" Medina, a licensed massage therapist in Dallas, Texas. His advice? "Be aware," he suggests.
"Most clients do not realize that the front of their body is pulling the back, which is overstretching the back," Tito goes on to explain. "This causes a misalignment."
Tito studied the art of massage therapy at the Texas Massage Institute before going on to take a position at Bliss Spa in the W Hotel, a high-end facility with a stellar reputation. (While Tito is employed at Bliss, he works with clients privately in their homes.)
Tito performs a number of massage modalities in which he is trained, including Swedish, deep tissue and chair massage in addition to foot reflexology and, for expecting mothers who are past their first trimester, pre-natal massage. Tito is also a massage therapist at Specialized Innovative Therapies in Houston, where he works with doctors to formulate a treatment plan for conditions such as autism, cerebral palsy, injuries, respiratory and circulatory concerns and musculoskeletal conditions.