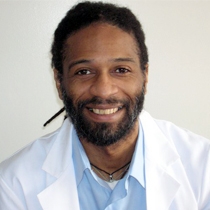 Edward G.
Acupuncturist "LAc"
Why celebrate? Licensed acupuncturist Edward Gousse encourages his clients to rejoice in their success because it converts emotional trauma into a more positive and beneficial kind of energy, thereby boosting endorphins and facilitating healing.
Edward has always garnered an interest for helping others. Growing up with asthma and a unique sense of motivation (passed down from his father, as he describes), he was determined to find a solution to his own (and others') ailments. Through acupuncture, Edward gets to live his dream daily.
Enrolling at the Tri-State College of Acupuncture, Edward studied among master level acupuncturists and received insight into this versatile form of health care. Three years later, one of which he spent working at the Tri-State College community clinic, Edward found his confidence to branch off and volunteer at Changing Health Inc., a clinic in New York City.
Today, Edward offers acupuncture and wellness services at his private Brooklyn-based home and through Mindful Turtle Yoga and Wellness Center in Stony Brook, Long Island. Clients seek his help for the symptoms of many typically western diagnoses, including low back pain, oncology treatment and dysmenorrhoea.
What to Expect
Edward creates a warm and inviting atmosphere, driving client comfort and an overall sense of well-being. He takes the time to discuss physical and emotional changes since his last meeting with a client before moving forward with a session.
Edward continues on with three styles of acupuncture, uniquely blended to optimize client experience. He is trained in Traditional Chinese Medicine, Kiiko Matsumoto and Acupuncture Physical Medicine. In addition, Chinese herbs may be incorporated to accelerate the treatment of any existing disharmonies in the body, enhancing the recovery process in a non-toxic way.
---
Professional License
25 004494
Certifications
National Certification Commission for Acupuncture and Oriental Medicine
New York Division of Professional Licensing Services
Specialized Training
Tri-State College of Acupuncture