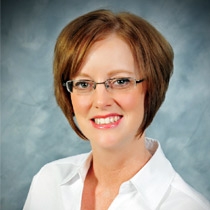 Kelli A.
Massage Therapist "LMT"
Prior to her career as a full-time massage therapist, Kelli Auger worked in the medical field for 15 years in the administration and physical therapy rehab departments of The Finley Hospital in Dubuque and Mercy Hospital in Cedar Rapids. Simply put, she has always found gratification in helping others live pain-free.
Kelli's initial interest in bodywork therapy began with her own enjoyment of massage. Intrigued by its ability to eliminate pain and deliver comfort via natural means, she eventually decided to attend a 775-hour program at Carlson College of Massage Therapy.
In the winter of 2008, Kelli graduated from the well-regarded establishment and became the sole proprietor of Body Oasis Therapeutic Massage that spring. Since earning her degree, Kelli has continued to work with Carlson College, spending time as an assistant instructor and a clinic supervisor.
Kelli currently works out of three locations in Iowa: at private studios in Marion and Monticello, and at client's homes in the vicinity. In addition to her practice, she also donates her talents to a local hospice, massaging and bringing comfort to terminally ill patients and their caregivers.
Kelli's intent is to make each session as relaxing and comforting as possible from start to finish. Committed to providing an optimal experience, she encourages her clients to chime in if they think of ways in which she can improve the massage ("I am always welcome to new ideas or thoughts," she says).
---
Professional License
Iowa 004923
Certifications
Iowa Board of Massage Therapy Examiners
Specialized Training
Carlson College of Massage Therapy