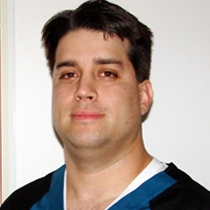 Joseph M.
Massage Therapist "CMMT, LMT"
There's a time and place for Western medicine, but licensed massage therapist Joseph McCoy encourages clients to test out healing techniques that eschew the need for drugs and surgery first.
A native Texan who was raised in the Red River Valley, Joseph is a certified medical massage practitioner with experience in advanced orthopedic, medical, and deep tissue techniques. He maintains a personal practice, Ortho Body Works, and is a full-time masseuse at the Ritz-Carlton Hotel Spa in Dallas, TX. At both, he aims to restore his clients' function and alignment while reducing musculo-skeletal pain and discomfort from knots.
Alongside his on-site therapy, Joseph provides specifically targeted home-care routines to achieve pain-free movement without the help of drugs or corrective surgery. These regimens focus on a holistic approach to stretching, strengthening and understanding body mechanics as well as proper rest and nutrition.
Joseph's sessions begin with a consultation and evaluation of his client's goals and pain-thresholds. By fully understanding their needs, Joseph is able to offer clients who regularly need massage therapy to achieve longer lasting results.
---
Professional License
TX license MT103804
Certifications
Texas Department of Licensing and Regulation