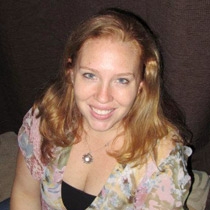 Lauren M.
Massage Therapist "LMT"
"Loyal" only begins to describe the kinds of clients mobile massage therapist Lauren McGregor has acquired since commencing her career. In fact, one client, who sees Lauren three times weekly, built a room where he and his wife can fully relax as she works her magic.
"From the time I could walk I have been massaging: either it was my dad's back or my mother's feet or my sister's scalp," Lauren says. "I have always been massaging. I always knew I would be a massage therapist."
Lauren's massaging of her family took a more serious turn after she became a professional therapist—shortly after being trained in lymphatic drainage in 2002, Lauren served as her mother's lymphatic drainage therapist during successful treatment of breast cancer. She also worked with her grandfather as a massage therapist through three different episodes of cancer.
Lauren grew up in the San Francisco East Bay area in California before moving around "to see what life was like" in Ecuador, South America and then on the East Coast. Florida quickly became her home, and so she decided to build her successful practice near the beaches of Miami.
When she's not riding her bike down to the shore or traveling to new and exotic locations, Lauren studies holistic medicine, exploring natural ways—like massage—for the body to heal itself. In addition to her education and training, Lauren is also interested in Ayurvedic medicine, focusing on herbal supplements as an alternative and complimentary agent to western science.
Best of all, Lauren's services are offered in the comfort of client's homes in Broward County and North Miami Beach, eliminating the need to travel to and from an appointment and prolonging the aftermath of a session. She is dedicated to helping others in the best way she knows how, her tailored style which gives those who need it a retreat from "the trials of a long day."
---
Professional License
FL License MA60909
Certifications
Florida Board of Massage Therapy
Specialized Training
National Holistic Institute, Massage Therapy, Emeryville, CA (2002)
Upledger Institute, Lymphatic Drainage Training (2002)