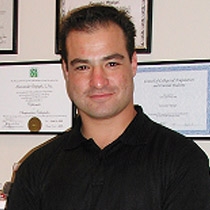 Alex S.
Acupuncturist "LAc"
A licensed acupuncturist in San Diego, Calif., Alex Shpigel seeks to determine the root cause of a condition in order to improve his patients' health. "The treatments I provide are not just for temporary pain reduction but for fixing the underlying problem," he says.
Alex's history with mixed martial arts competitions equipped him early on with personal insight into the needs of athletes and individuals with orthopedic disorders. After being injured in the ring, he was instructed to sit on the sidelines for a month in order to let his body heal. Instead, Alex sought the help of a holistic healer—an acupuncturist, much like himself—and within days, this fighter was up and at it again.
With a lifetime of experience, Alex is now a dedicated healer who integrates tai chi, qi gong, nutrition, meditation and Taoist healing techniques based on his client's unique needs. He holds a master's degree in Traditional Chinese Medicine from the Pacific College of Oriental Medicine and has completed a year-long course at Cedar Sinai Hospital in Los Angeles, studying orthopedic disorders.
At his clinic, Shpigel Acupuncture, Alex applies his background and training to his work with patients dealing with orthopedic disorders and in search of pain reduction. "I have treated thousands of patients with great results," he says. "I am confident that I can decrease, if not completely eliminate, your pain symptoms in only a few treatments."
---
Professional License
CA 10071
Certifications