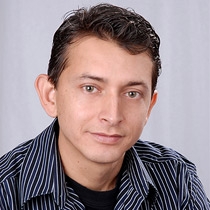 Rigoberto R.
Massage Therapist "LMT"
For Rigoberto Rosa, the decision to pursue a career as a professional massage therapist was easy. "My health was profoundly improved by massage, so I became a massage therapist to others," he recalls.
Licensed massage therapist Rigoberto is a graduate of Florida Career College. While his favorite modalities and areas of expertise are deep tissue massage, Swedish massage and reflexology, he is trained in many techniques. Rigoberto prides himself on his straightforward, practical approach that makes a real difference in client lives. or all conditions; and so Rigoberto encourages open communication to facilitate the best possible outcome.
---
Professional License
FL License MA58617
Certifications
Florida Board of Massage Therapy
Specialized Training
Florida Career College, Fort Lauderdale, FL (2004)
Current & Previous Employers
CVS/pharmacy (Fort Lauderdale, FL); Marcela's therapeutic Touch Chiropractic (Florida)