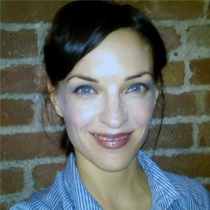 Amy F.
Acupuncturist "LAc, MSOM"
"I was headed down a path of Western science when I realized that reductionism is an excellent tool in the lab, but the complexity of bodies and minds demands a bigger picture," says licensed acupuncturist Amy FitzPatrick. "And to be honest, lab work isn't nearly as cool as they make it look on CSI!"
Amy's epiphany led her to discontinue her neurobiology PhD candidacy at CUNY, and seek an MS Degree in Traditional Chinese Medicine from the American College of Traditional Chinese Medicine. She's now an expert in many TCM techniques, including herbs, massage, nutritional counseling, trigger point acupressure and moxibustion.
TCM centers on the theory of balancing the yin and yang of the body. Illness and pain are the results of imbalances. Amy says that techniques like acupuncture can restore the yin-yang balance, and "help the body stay healthy, as opposed to just not getting sick." She also claims her background in Western medicine only enhances her ability to heal. "Used appropriately, Eastern and Western treatments can perfectly complement each other—in balance," she explains.
Amy is now a part of an integrative team of health care providers at Beth Israel Medical Center in Manhattan. At a recent medical conference, a family MD said: "Acupuncturists are so lucky. They have all the tools!" Amy agrees with him. "We are lucky!" she says.
---
Professional License
25 004503
Certifications
National Certification Commission for Acupuncture and Oriental Medicine
New York Division of Professional Licensing Services
Specialized Training
Acupuncture Fellow - Beth Israel Medical Center, 2010-2011