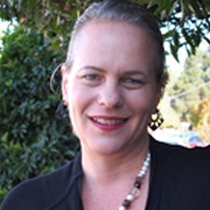 Naandi P.
Acupuncturist "LAc"
With an extensive background in massage and cosmetology, licensed acupuncturist Naandi Puja-Joy sees the body not as parts, but as an integrative whole along with the mind and spirit. She is a Traditional Chinese Medicine practitioner in Oakland, Calif. and believes that good health stems from being in balance.
Ironically, Naandi first viewed acupuncture as just a series of needle wounds. Preferring hard science (she obtained her bachelor's degree in human development), she had been hesitant to try alternative medicine until a personal experience turned her world around.
After a bad bout of the flu, her friend dragged her to an acupuncture clinic where the reluctant Naandi experienced for herself what acupuncture was all about. Intrigued and amazed, she decided to study the modality further.
After earning her master's degree in Traditional Chinese Medicine from the Academy of Chinese Medicine and Health Science in Oakland, Naandi began seeing clients of her own. Naandi is dedicated to her clients' health and specializes in pain management, women's health, facial rejuvenation, dermatology and stress management. When needed, she combines sessions with massage.
In addition, her extensive cosmetology experience has helped her created a Chinese herbal skin care line, customized to individual needs. Each product uses organic oils, Bach Flower essences and other organic and natural ingredients.
---
Professional License
13120
Certifications
California Acupuncture Board
Specialized Training
Academy of Chinese Culture and Health Sciences, 2008
Harbin School of Massage and Shiatsu
Lake Forest Beauty College