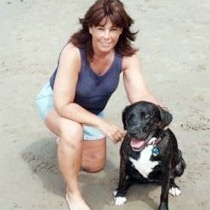 Ann P.
Personal Trainer "CES, CPT"
Ann Prokenpek is a certified personal trainer with additional specializations in corrective exercise, sports performance enhancement and fitness nutrition. Ann has experience working with clients at every level of fitness, including athletes, pregnant women, people with injuries, seniors and other special populations.
Until the age of 40, Ann was on every diet known to mankind. She finally gave up on diets and focused on portion size and began working out four to six times a week, doing both cardio and resistance training. Soon, the weight came off.
Today, Ann is a certified personal trainer with specialized training in corrective exercise, sports performance enhancement and fitness nutrition.
She works with clients at every fitness level, from athletes training for specific sports, to seniors, to pregnant women, to people with sports injuries, to special populations, such as amputees, stroke victims and diabetics.
For Ann, the greatest reward is helping her clients reach fitness goals. She's helped a man with MS keep his leg muscles strong and un-atrophied, and helped a client who'd had shoulder surgery complete the Tough Mudder six months later.
Her senior-focused services are aimed at helping seniors stay active and healthy for as long as possible. Her programs for seniors help them cope with arthritis, osteoporosis and other aging-related issues.
What to Expect
Looking for a drill sergeant? Don't come to Ann. Her style: constant feedback and positive motivation. Don't worry, you'll still be working hard. Ann will help you monitor your daily diet and exercise, provide feedback on nutrition and give you motivation to work out on those lazy days. That's because, according to Ann, there's no such thing as a quick fix. Clients learn how to improve health, nutrition and fitness for a lifetime, not a few weeks.
---
Certifications
National Academy of Sports Medicine (NASM)
Specialized Training
NASM Certified Personal Trainer
NASM Corrective Exercise Specialist
NASM Performance Enhancement Specialist
NASM Fitness Nutrition Specialist