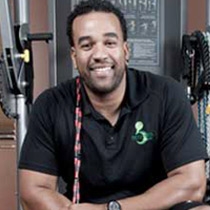 Marcus N.
Personal Trainer "CPT"
In practice since 1997, Marcus Nisbett is a certified personal trainer and licensed massage therapist who combines therapeutic bodywork with sport-specific training to help clients not just achieve goals but an overall healthy lifestyle. At Ncognito Fitness, his private gym in West Palm Beach, Fla., Marcus helps individuals make incredible progress even when dealing with the obstacle of injury.
Marcus knows what it's like to overcome pain. When a car accident resulted in herniated discs, he faced the long task of rehabilitation. In the process, he became fascinated with the body's ability to correct itself. Wanting to understand the mechanism of healing, he set out on the path of health and fitness, studying advanced flexibility and becoming a top trainer at the New York Health & Racquet Club in Manhattan.
Now working in West Palm Beach with a busy clientele who desire "flexible scheduling and world class accommodations," Marcus provides group and one-on-one training. Coming from his own bout with overcoming injury, Marcus especially likes working with those who struggle with physical limitations too. He has also helped clients with carpal tunnel, tennis elbow and sciatica, among other conditions.
A graduate of The Swedish Institute, Marcus offers massage therapy and nutritional counseling as part of his services. He focuses on therapeutic modalities and performs deep tissue, myofascial release and neuromuscular therapy. Swedish, shiatsu and reflexology are also available.
---
Certifications
American Council on Exercise (ACE)
National Academy of Sports Medicine (NASM)
Specialized Training
The Swedish Institute, 2005