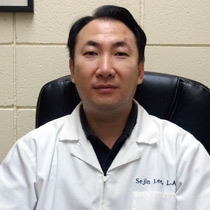 Sejin L.
Acupuncturist "LAc"
For licensed acupuncturist Sejin Lee, healing is all in the family. Sejin and his wife, Min Kyung Kim (or Katie) work in tandem at Dunamis Acupuncture and Herb Clinic, where they provide the highest standard of health enhancement through their deep understanding and appreciation of Western medicine and Oriental therapies.
At Dunamis Acupuncture and Herb Clinic, Sejin seeks to prescribe the appropriate treatment plan for each of his patients, as dictated by the severity and the duration of their illness or condition. He takes special care to get to know each patient he works with, exploring the root cause of their particular discomfort or ailment, noting their medical history, and suggesting possible solutions.
A Master of Oriental Medicine and a graduate of California's Samra University of Oriental Medicine, Sejin has extensively treated an array of concerns, from injuries (including neck, shoulder and back pain) to chronic conditions like carpal tunnel pain. Treatments are enhanced by Sejin's vast knowledge, overflowing compassion and the range of his experiences, not to mention a decidedly positive environment which he believes allows patients to feel comfortable, supported and secure.
While Sejin's practice may be based in Fullerton, Calif., his work extends beyond the west coast alone. He enjoys embarking on medical missionary journeys that take him to other countries around the world, where he helps less fortunate communities enhance their access to alternative health care means.
---
Professional License
11685
Certifications
National Certification Commission for Acupuncture and Oriental Medicine
Specialized Training
Samra University of Oriental Medicine, CA