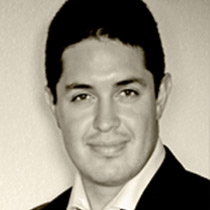 Ralph A.
Personal Trainer "CES"
Every fitness program begins with a goal, says certified personal trainer and owner of Albuquerques Anatomic Fitness, Ralph Arellanes. One-on-one personal training gives you the opportunity to focus on your goals and maximize your results, one step at a time.
This is the mantra at Anatomic Fitness, a high-grade facility that offers just about anything with regards to fitness and wellness—Kettlebells, TruFit Universal Training System, cardio machines, boxing gloves, punching bags and target mitts, even a three-story rock climbing wall!
Ralph prides himself on creating unique, personalized sessions for each client. One session we can be doing a 5k run on the foothills of the Sandia Mountains, the next we'll be at a rock climbing gym. He tries to keep the fun-factor prominent. The more diverse and enjoyable you make your workouts, the less monotonous and routine they become, he explains.
Ralph says he understands the frustration clients feel when they face an overwhelming array of fitness options. Anatomic Fitness is different, he claims, because the spotlight is always on the client.
Most corporate facilities, he adds, only focus on meeting their quotas, without addressing the needs of individuals or giving quality service. But with Ralph, I get involved with my clients session as more than just their instructor. Im their workout partner too.
What to Expect
During a free consultation Ralph will invite you to share your fitness goals, familiarize yourself with the facilities and discuss a training plan. Body composition and postural assessments are also available.
---
Certifications
National Academy of Sports Medicine (NASM)