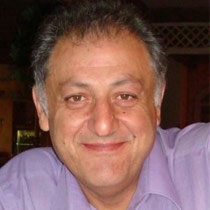 Aram A.
Acupuncturist "LAc"
Aram Akopyan was born to heal. A childhood spent at the knee of his grandfather, a healer and practitioner of the ancient art of Armenian Traditional Medicine, eventually compelled him to discard the pursuit of corporate success and seek "something grander and more meaningful in my life."
This new path led him to a doctorate in Traditional Chinese Medicine, and his own clinic, Total Wellness Center for Healing Arts. At TWC, Aram employs his skills, (which include acupuncture, cupping, moxibustion, tui na, gua sha, tai chi, qi gong and herbal and nutritional counseling), to aid his patients in seeking their own path to health and wellness.
Aram's approach to a client's well-being focuses on the health of the patient's mind, body and spirit. TWC's facilities integrate feng shui and spiritual elements designed to enhance a patient's physical and mental state so they may "truly gain a healthy prospective on life."
To encourage community healing, Aram offers free tai chi and qi gong lessons in the Glendale area. He also lectures at local high schools and secondary educational facilities, and answers health and wellness questions during his own television program on Glendale Burbank Charter Cable Channel 285. "I have a unique perspective on what ails us today," says Aram. "Come join me on this wonderful path to awakening."
What to Expect
The first session at Total Wellness Center will begin with a thorough, 30-minute consultation. Depending on the diagnosis, clients will then receive treatments utilizing acupuncture, cupping, moxibustion, Oriental body work, tui na or cosmetic facials with herbal masks and photo light rejuvenation.
---
Professional License
11517
Certifications
American Board of Obstetrics and Gynecology
American Board of Dermatology
National Certification Commission for Acupuncture and Oriental Medicine
California Acupuncture Board
Specialized Training
Si Chuan Academy of Traditional Chinese Medicine, Post Graduate Doctorate Residency, 2006