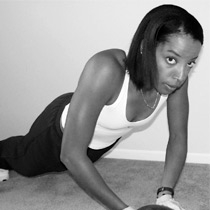 Carmen R.
Personal Trainer "CPT"
With a naturally inquisitive demeanor, personal training was always the perfect choice for former track star Carmen Rojas, as it allows her to combine her passion for fitness, health and sports with her love of science.
Carmen's background in fitness is as versatile as her clientele. She began training with the Special Olympics and has since trained individuals in and around Jacksonville, Fla., Washington D.C. and Guam. Carmen has worked as a personal trainer for more than 10 years and has helped upwards of one-hundred clients accomplish their fitness goals along the way.
Carmen's approach to fitness and health is decidedly scientific. Her training is based on the difference between calories burned and calories consumed. Using this basic rule of thumb, Carmen's clients have reached their fitness goals in an efficient manner.
That said, everyone consumes and burns calories at different rates, which is why Carmen designs custom workout and nutrition programs for each client. With every subsequent workout, Carmen continues to observe her clients closely, determining the most effective ways to modify their training regimen, ultimately accelerating their progress.
What to Expect
Clients who work with Carmen have come to expect convenience. "I am highly mobile," she says. "I can train where you are." Clients may choose to transport their workouts to offices, parks, gyms, fitness centers, tracks, backyards and even living rooms. As long as the location is safe, then it's a perfectly good space to exercise in.
Carmen motivates her clients through positive encouragement. "I am honest, and promote honesty amongst my clients," she says. "I am not a drill sergeant, and I do not motivate through intimidation."
---
Certifications
International Fitness Professionals Association (IFPA)