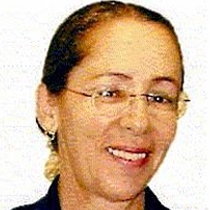 Silvia C.
Massage Therapist "LMT, RMT"
Former physician and Reiki Master Silvia Casabianca became a Massage Therapist in 2002 (a requisite in Florida to practice Reiki). She is also a Certified Medical QiGong Practitioner and a Certified Trager Practitioner. At Eyes Wide Open Center in Bonita Springs, Silvia offers an integrative and holistic (body-mind-spirit) approach to help clients stay healthy.
Silvia graduated in 2000 from the Educating Hands School of Massage in Miami and received her Trager Approach certification in 2002. Though she does not provide Swedish massages, she uses a holistic and integrative approach to bring clients back to health.
In addition to being a bodyworker, Silvia is an art therapist and uses art as a pathway to explore the unconscious mind. Art, she explains, is a useful tool for communication. As an expressive therapy, imagery has the power to facilitate catharsis.
---
Professional License
32919
Certifications
Florida Board of Massage Therapy
Specialized Training
International Institute of Medical QiGong (2011)
Certified in Trager Approach (2002)
Educating Hands School of Massage in Miami (2000)