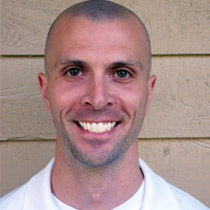 Kevin F.
Massage Therapist "LMT"
He's not one to diagnose, but Kevin Franklin has a few suggestions: Drink plenty of water, stretch, eat well and take good care of your body. Massage is a great place to start.
Kevin is a licensed massage therapist, experienced with a diverse clientele, and is skilled in a number of massage modalities. Highly professional and passionate about bodywork, Kevin blends the most effective techniques for a customized session, tailored to individual needs and preferences.
---
Professional License
FL License MA66351
Certifications
Florida Board of Massage Therapy
Specialized Training
Everest School of Massage
Current & Previous Employers
Signature Bodyworks Mobile Massage and Fitness Charles Pope Chiropractic Essentials Massage and Facials Massage Envy Hand and stone