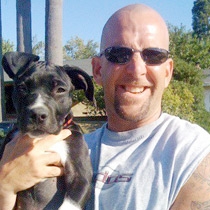 Shane B.
Personal Trainer "CPT"
"It's not about how hard you work, but how you treat your body as a whole that gets you the results you want," says Shane Boley, a certified personal trainer who believes that self-awareness is as important as exercise itself.
Shane started out his career as an aspiring baseball player, his dreams which were shattered when he broke his pelvis in two places more than a decade ago. After four months of immobility and chronic pain, Shane began training to get his body to a point where he could play again. (Today, he still plays at a high level.)
Through his personal experiences, Shane developed a full-body functional workout regimen, reliant on five functional components. The "No Shane No Gain" program, as he calls it, is a holistic, nonabrasive approach to fitness that removes the pain from the gain, combining nutrition, resistance training, cardiovascular work, flexibility training and personal assistance.
Shane has a wealth of knowledge due to his own history as well as his accreditation through the National Academy of Sports Medicine. When it's all said and done, clients can expect not only to look better but also to feel better than when they began working with Shane.
---
Certifications
National Academy of Sports Medicine (NASM)