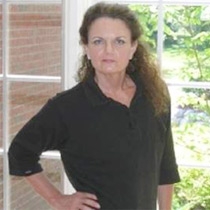 Angela K.
Yoga Instructor "CPT"
Angela Kielar's personal training experience spans two decades and many models of training, from A for aerobics to Z for Zumba. She adjusts the exercises based on the fitness levels and goals of her clients.
Angie has been offering her eclectic and exciting personal training services to clients in the greater Detroit area for more than two decades. Cooperation and a close teacher-student relationship at Fitness Rx, Angie's studio, provide the foundation for students to surpass what they might have managed on their own.
Angie's extensive experience and knowledge of a variety of exercise programs and techniques allow her to identify the needs of each student, and the right way to approach her goals. Clients can experiment with one or all of a host of exercise methods, from yoga and Pilates to weight training and kickboxing. When students find a method they enjoy, they can then feel empowered to connect that motivation to living a healthy lifestyle even outside the studio.
---
Certifications
American Council on Exercise (ACE)
Yoga Alliance Registered Yoga Teacher