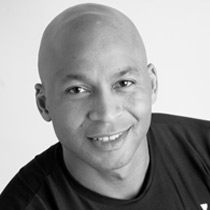 David F.
Personal Trainer "CPT"
An ACE-certified personal trainer, David Franklin has been helping people meet their health and fitness goals since 1996. He loves working with clients who are new to fitness, and operates out of Washington, D.C.
In 2008, after spending years as a personal trainer at larger gyms and fitness studios, David made the executive decision to establish his own training facility where his clients could work out in a private setting. Today, he is a "one man operation," bringing dedication and excellence to every one-on-one session—attributes that are often lost among chain establishments.
"Gyms are a training ground for inexperienced trainers," says David, who began his career as a fitness specialist for the United States Air Force. While there, David evaluated military members and advised them on how to improve their physical vigor.
At DLF Fitness Personal Training Studio, David has created a clean, safe and welcoming environment, where clients—from experienced athletes to fitness newbies—can learn to improve their health. Each program is completely customized to a person's immediate and long-term goals, and workouts focus on strength training to enhance muscle tone.
---
Certifications
American Council on Exercise (ACE)