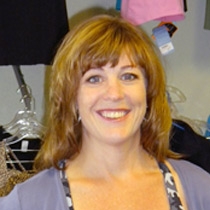 Heidi B.
Pilates Instructor "CPT"
Heidi Benson asks, "Do you want to become more flexible, to be stronger and leaner, and to change compensatory patterns that cause pain?" A certified personal trainer, group fitness instructor and successful wellness consultant, Heidi is perfect for the job.
Heidi has been teaching kickboxing, step, hip hop hustle, aerobics and other energetic exercise styles for more than 25 years, but it wasn't until later in her career that she discovered the benefits of Pilates. She came to the practice because of a back injury, and found that it could be extremely useful in terms of functional training.
Heidi earned her certification through Balanced Body University and has since completed advanced Pilates certifications with pioneers in the field. She hopes to inspire her clients through the power of physical movement, and offers instruction in reformer, tower, exo-chair and combination classes.
After teaching all kinds of fitness classes from coast to coast and developing a thriving fitness consulting practice, Heidi opened Priya Pilates and Fitness in Sedona, Ariz. Priya is "the culmination of her dreams" and has become a space that evokes physical change in all who enter.
---
Certifications
American Council on Exercise (ACE)
Specialized Training
Balanced Body University